---
The 2020 Summer Lecture Series is going virtual!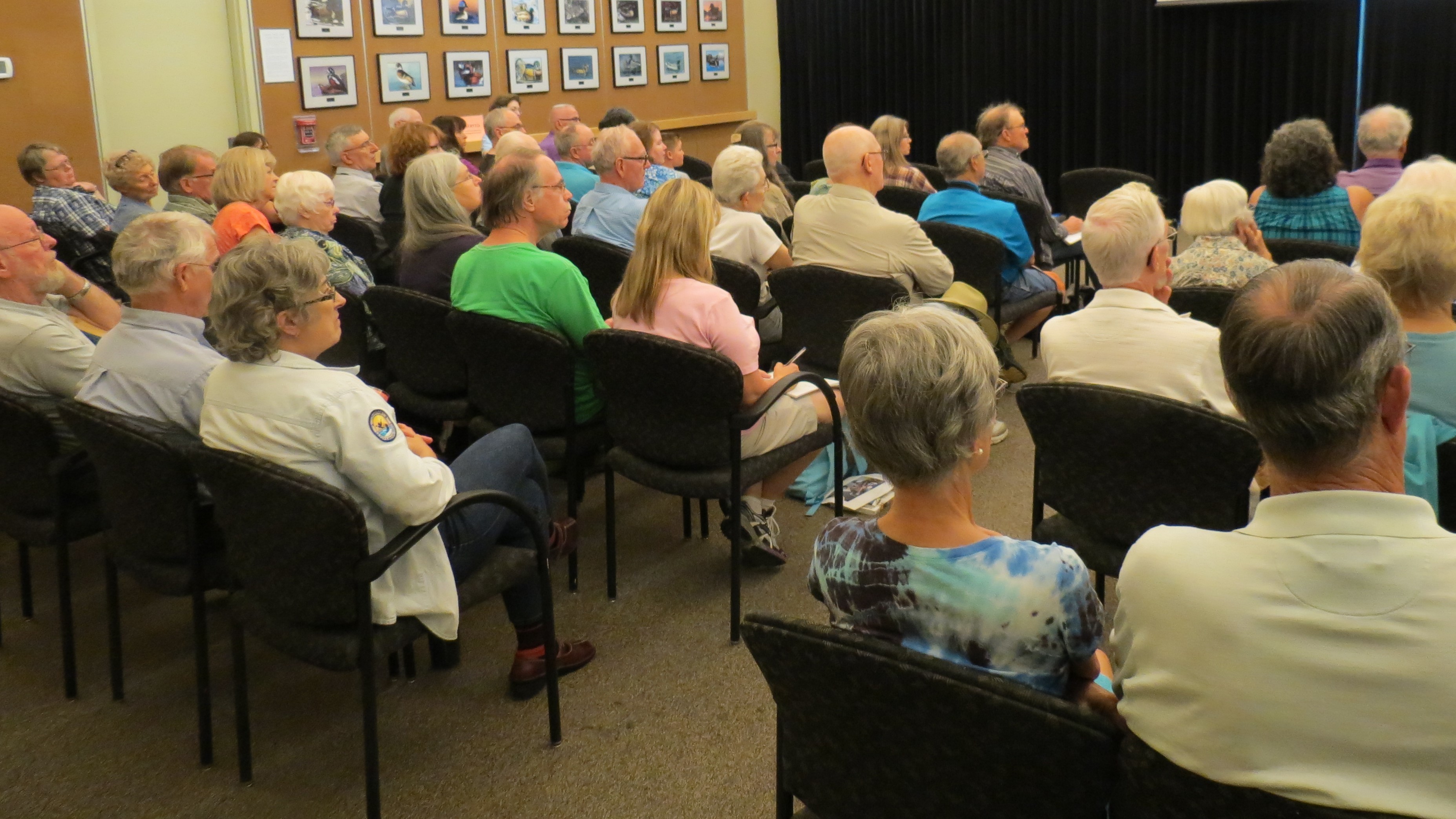 To help slow the spread of Covid-19 the 2020 Summer Lecture Series will be held through Zoom. The lecture series continues to be free. Our schedule of speakers is listed below.
All lectures are free and will take place Wednesday evenings at 7:00 p.m. (pacific time) throughout July and August.
Registration is required. Complete the form below and indicate which lectures you plan to attend. You'll receive an email with instructions for joining. A full description of each lecture is listed below the registration form.
Questions? Contact us at info@friendsofnisquallynwrc.org
---
July 8th lecture by Kim Adelson: The Biggest, The Smallest, The Only, and the Rarest: New Zealand's Unique Bird Life.
Kim Adelson is on the Board of our Local Black Hills Audubon Society and frequently gives talks about birds, their vulnerability to climate change, and their place in the ecosystem. Many of New Zealand's birds are strange: they evolved in profound isolation, in a land without mammals and with few flying insects. Facing little competition and predation pressure, they slowly changed. As a result, they include the largest…, the smallest…, the heaviest…, the rarest…, the most ancient…, the most mammalian, and the only… species of many types of birds. New Zealand has penguins and parrots and kiwis and wattlebirds, and 80% of its land birds can't be found anywhere else. Come hear a discussion about the fascinating birds, both living and extinct, that roam (or roamed) New Zealand.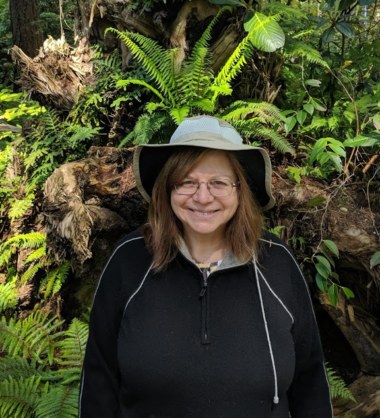 ---
July 15th lecture by Jeff Antonelis-Lapp: Tahoma and Its People, A Natural History of Mount Rainier National Park
Did you know that Native Americans have traveled to Mount Rainier for over 9,000 years, to gather resources unavailable near their lowland villages? Did you know that the effects of climate change extend far beyond the mountain's retreating glaciers? Join Jeff Antonelis-Lapp, Emeritus Faculty at The Evergreen State College, to learn more about these and other stories from Tahoma and Its People, his natural history of Mount Rainier National Park, published this spring by Washington State University Press. Learn more at https://jeffantonelis-lapp.com/.
After graduating from college, Jeff Antonelis-Lapp worked two summers at Mount Rainier National Park, igniting a connection to the mountain that endures today. He has summited the mountain, hiked all of its mapped trails, and completed the 93-mile Wonderland Trail five times.
Jeff began writing Tahoma and Its People after being unable to find a current natural history for a course he planned to teach at The Evergreen State College. He conducted over 250 days of fieldwork for the book, many of them in the company of park archaeologists, biologists, and geologists.
While at Evergreen, he taught Native American Studies, natural history, environmental education, and served as the Library Dean before retiring in 2015.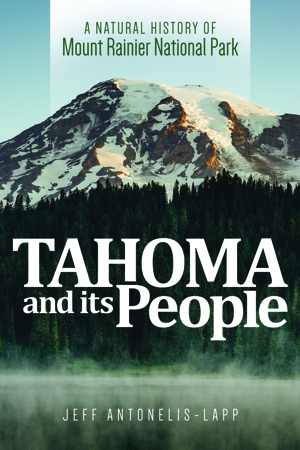 ---
July 22nd lecture by Heidi J Auman, PhD: Garbage Guts, a children's book reading
Heidi J Auman, PhD (Adjunct Lecturer, IMAS) has studied human impacts on seabirds for most of the past thirty years. A pioneer on the research of plastics ingestion, she lived on Midway Atoll National Wildlife Refuge from 1993–2000, studying the effects of marine debris and contaminants on Laysan albatross. Heidi has also explored plastic ingestion in sub Antarctic and Tasmanian seabirds, chemical pollutants in Great Lakes birds, and the effects of junk food on urban gulls. She has demonstrated that our ecological footprint has reached the farthest corners of the earth, often with disturbing consequences.
Armed with this hands-on experience – and a passion for sharing her scientific knowledge with a wider audience, including young people – she has now written a book for children on the subject. In her book, dramatically illustrated by Romanian artist, Luminita Cosareanu, Heidi has Aria, a female Laysan Albatross Phoebastria immutabilis, travel away from her island home to find out where all the plastic items she and her albatross friends have been regurgitating are coming from.
The take-home message is that marine pollution is derived from the land and that children can help and become involved by joining beach clean-ups.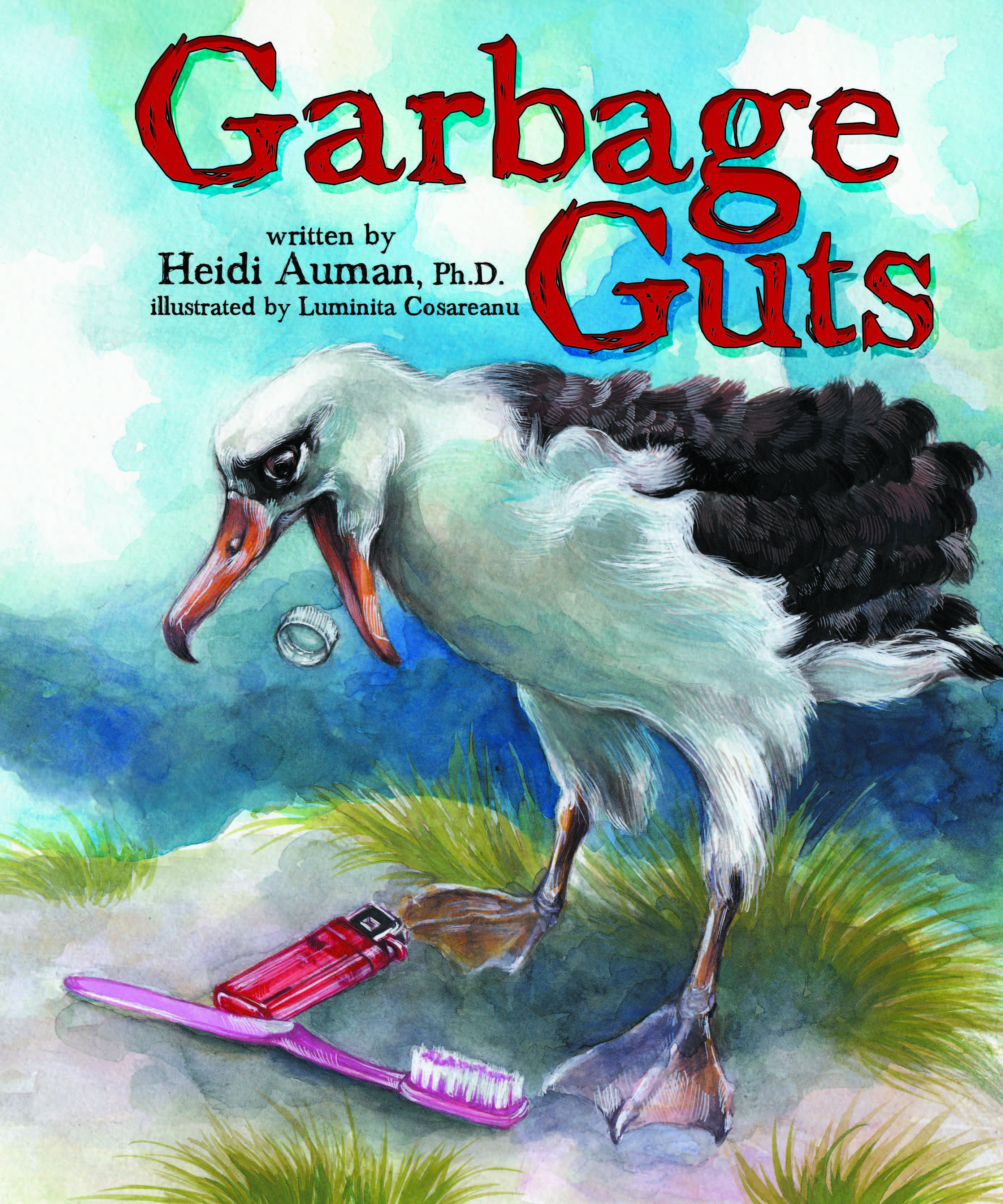 ---
July 29th lecture by Cindy Von Halle: A place in the Sun-Joshua Tree National Park
Cindy Von Halle retired from the National Park Service in 2015 after a rewarding career that allowed her to live in seven national park sites across the country. She lives with her husband and dog near Joshua Tree National Park, where she worked for 13 years. Her last park was Klondike Goldrush National Historical Park in Skagway, Alaska, where she served as Chief of Interpretation and Education. She enjoys volunteering at Big Morongo Canyon Preserve, known for exceptional bird habitat. During the Covid 19 pandemic, she keeps busy reading, walking and gardening.
The California Desert is one of the harshest environments on earth. Long periods of drought and searing hot summers make it challenging, yet the variety and abundance of life is amazing. Join former Park Ranger Cindy Von Halle as she share's nature's hidden secrets for survival among the Joshua Trees.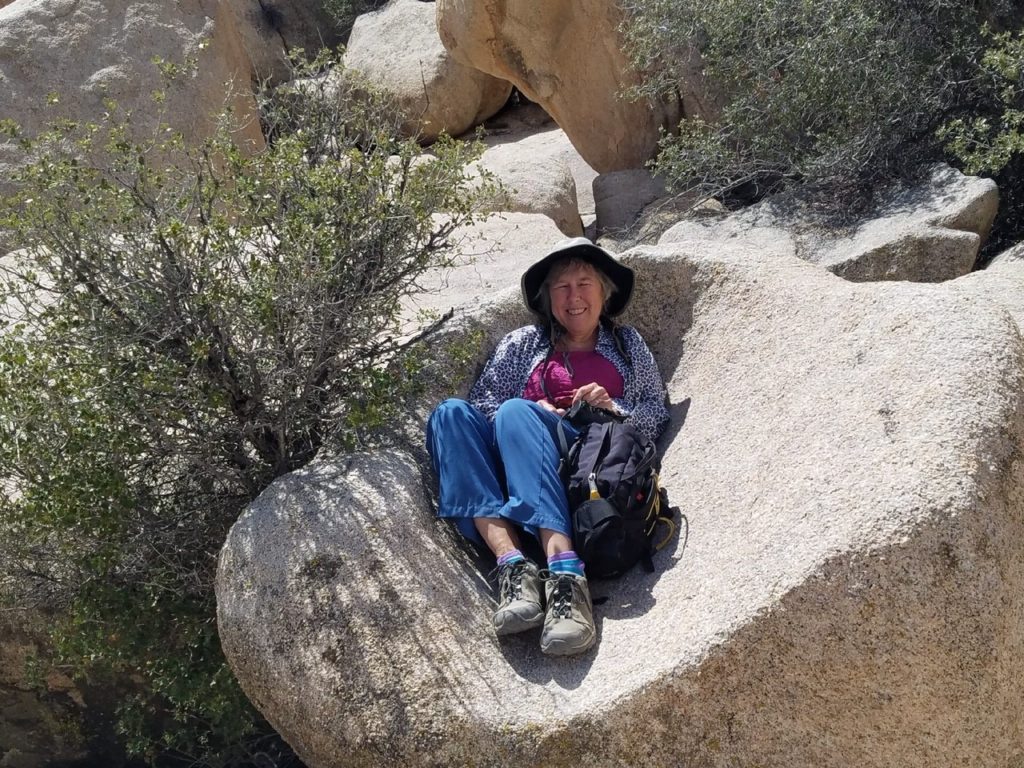 August 5th lecture by Jim Ullrich: Osmia Propinqua – Orchard Mason Bee or Blue Orchard Bee
Jim Ullrich was the President of Wild Birds Unlimited, Gig Harbor, WA '93-2015.
He is a retired Naval Officer, has a Master's Degree University of Puget Sound, and appeared on Ed Hume, Cisco Morris, and Scott Conner Garden Shows. Jim is a contributing writer for West Sound Home & Garden Magazine for the past 7 years and has been the President of Kitsap Audubon and Past board member 10 years. Jim's recent speaking engagements include, Vashon Garden Tour, Tacoma Home & Garden Show, Kitsap Home & Garden Show, and numerous talks to various clubs throughout Puget Sound past 23 years. Over 114 specific talks on Orchard Mason Bees, since 1993.
A live open discussion on summer maintenance for our Native Orchard Mason Bees.
Join Jim Ullrich President of Knox Cellars Mason Bees to learn about what to do now and into the fall to maintain a healthy and productive family of Mason Bees in one's own backyard. Current issues, will be discussed and what to expect next year when our bees hatch in March 2021. Jim has been a frequent lecturer around the entire region, and has been a part of our Summer Lecture series in the past. Asked to come back, by popular demand.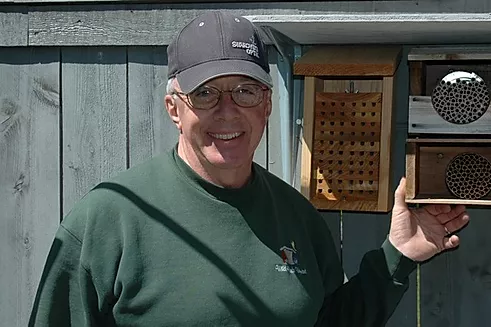 ---
August 12th lecture by Cindy Hansen: The Way of Whales
Cindy Hansen was born in Indiana and grew up in Alberta before moving to Washington, so being inland her entire childhood she naturally developed an affinity for whales. She received a Bachelors in Zoology from the University of Washington and has worked as a whale watch naturalist, Education Curator at The Whale Museum in Friday Harbor, and currently as the Education and Events Coordinator for Orca Network. She has also spent 19 winters migrating with the gray whales to San Ignacio Lagoon in Baja Mexico where she works as a naturalist/guide for Baja Discovery.
The Salish Sea is an amazing habitat full of marine wildlife. Many species of whales make the Salish Sea their home for part or all of the year. Some are just passing through while others remain for longer periods of time. Some, like the humpback whale, have recovered from near extinction and are an incredible success story. Others, like the Southern Resident orcas are critically endangered and need our help. Learn about the fascinating ways of whales and what you can do to help protect them.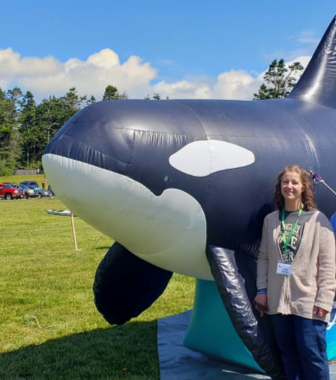 ---
August 19th lecture by Janine Gates: The Fight to Save the Nisqually Delta
Janine Gates, an Olympia-based freelance journalist and photographer, is writing a book about past proposals to industrialize the Delta and current environmental threats to its ecosystem. Gates created Little Hollywood Media LLC, and has written over 500 articles in ten years for her news blog, Little Hollywood, at www.janineslittlehollywood.blogspot.com. Janine is a member of the Society of Environmental Journalists.
How did the Billy Frank Jr. Nisqually Natural Wildlife Refuge (BFJNNWR) come to be? For decades, serious proposals put forth by the State of Washington, Port of Olympia, Port of Tacoma, Thurston County, Pierce County, and the City of DuPont threatened to industrialize the Delta.
Gates will speak about these modern-day threats and the citizen efforts to oppose those proposals by Margaret McKinney, Flo Brodie, and others with the Nisqually Delta Association, a nonprofit organization celebrating the 50th anniversary of its incorporation.
America's estuaries are being restored at the same time they are facing multiple threats including water quality and water quantity, growth, and climate change. Perhaps the most important question to be asked is, who will step up to help protect the Delta in the future?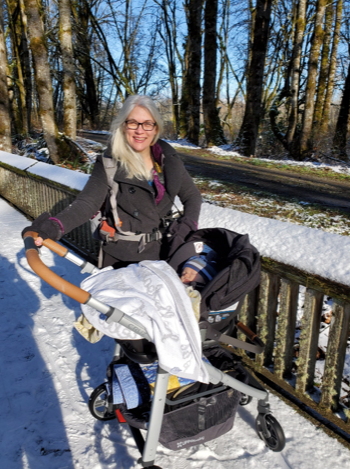 ---
August 26th lecture by Billy O'Keefe: Planets, Stars, galaxy herds… and Aliens!
Actively retired, Billy O'Keefe taught planets and astronomy for 10 years at New Mexico State University. He specialized in clarifying the cosmological interests of each student. He currently stays busy with one of his other interests, and works as a field entomologist for Columbia Gorge Fruit Growers.
Whether you like quantum field studies or mythological hoodoo, Billy will help guide the audience along the path to amazing astronomical knowledge. This program is still in the creative process. Check the Refuge Website, Facebook page, or the friends website for more details closer to the date.